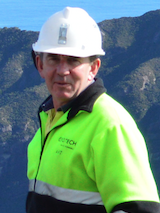 Managing Director - Anthony Black
BSc. Geology and Geochemistry (Hons), A-Grade Quarry, Mine and Tunnel Certificates
A specialist in surface and underground mining geology, Ant has over 20 years experience in Australia, Papua New Guinea, and New Zealand. In 2000, Anthony set up a team to respond to the growing demands of the expanding hydro and export coal mining industries in New Zealand. That team is Geotech.
Mechanical Engineer - John Kosovich, BEng (Mechanical)
John brings a wealth of experience to Geotech. He has expertise in drilling system design and product development, along with extensive hands-on skill in mechanical engineering and drilling operations.
Finance and Administration Manager - Bronwyn (Bronny) Shaw
Bronny is our fantastic accounts and office manager. Her integrity, attention to detail and impeccable relationship building skills are invaluable.
Electrical Engineer - David Clarke, BEng (Electrical and Electronics)
David is an experienced electrical and software engineer. Most projects today require the combined use of existing and new assets tomaximise previous investment and ensure delivery on time and on budget. David can deliver cost effective outcomes in rapidly changing work environments while ensuring potential and actual risks are managed appropriately.
Operational and Project Managers
Gary Fox
Gary is a hugely experienced and competent technician and Project Manager. He is a specialist underground and surface shotfirer, and a highly competent rockbolter and shotcreter. Gary has worked for Geotech since 2007, and has had a key role in all our mining and tunnelling operations. He is incredibly hard-working, client-focussed, and has extensive experience in the supervision of staff in safe work practises.
Clive Johnson - B-Grade Quarry Managers Certificate
Clive has worked for Geotech since 2010, and is one of our most skilled operators and supervisors. Clive is experienced in above ground and underground operations, and has a vast list of industry certifications. Clive has extensive experience in heavy machinery operation in difficult terrain, and has supervised a wide range of work, including projects at Stockton Mine, Amethyst Hydro tunnel and the Kaikoura earthquake remediation works.